Bitdefender
GravityZone Business Security Premium​
Enhanced with Human Risk Analytics
An integrated endpoint protection, risk management, and attack forensics platform. Enhanced with user behaviour risk analytics.
GravityZone Business Security Premium​ safeguards your organization from a full spectrum of sophisticated cyber threats. With more than 30 machine learning-driven security technologies, GravityZone provides multiple layers of defense that consistently outperforms conventional endpoint security, as proven in independent tests.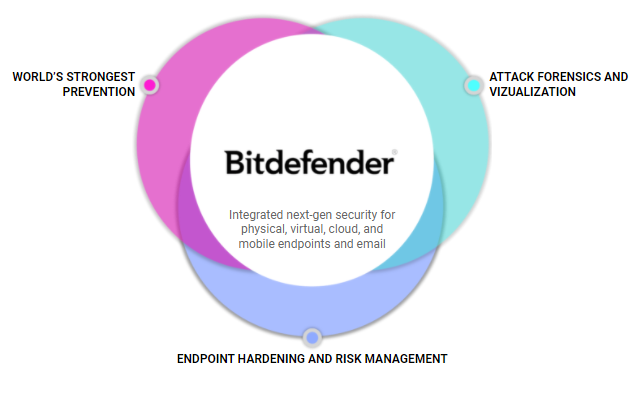 A single-agent, single-console solution for physical, virtual, mobile, and cloud-based endpoints and email, GravityZone Business Security Premium​ adds the human element in to your security ecosystem, minimizing management overhead while giving you ubiquitous visibility and control.

World's Most Effective Prevention
Automatically stop 99% of attacks with #1 ranked prevention that combines over 30 technologies, including tunable machine learning​, sandbox analyzer, anti-exploit and behavioral analysis

Attack Forensics and Visualization
Gain insight into your threat environment and perform forensic analysis by zeroing in on attacks specifically aimed at your organization. Visualize the attack kill chain and perform remediatory action

Endpoint and Human Risk-Analytics driven Hardening
Strengthen security posture with integrated device- and application control, patching, encryption and other technologies. Leverage integrated Risk Management and Analytics to continuously assess, prioritize, and address misconfigurations and vulnerabilities. Including the human triggered ones.
Human Risk Analytics
Helps identify user actions and behaviors that pose a security risk to the organization such as using unencrypted web pages for logging into websites, poor password management, usage of compromised USBs in the organization's network, recurrent infections etc.
By placing the human element in the middle of the risk analytics and management strategy, your organization becomes even harder to breach.
Network Attack Defense
Bitdefeder Network Attack Defense, a new endpoint network security layer designed to detect and prevent attacks which use network vulnerabilities. With it we ensure detection of a wide array of attacks from Lateral Movement (Brute Force; Port Scanners), web-service attacks (SQL injections), Traffic-Level attacks (botnets; malicious URLs or remote IOT attacks) to privacy breaches performed via phishing attacks to exfiltrate passwords, credit card or email addresses.
HyperDetect™ Blocks File-less Attacks at Pre-execution
Bitdefender HyperDetect contains machine learning models and stealth attack detection technology. It forms an additional layer of security, specifically designed to detect advanced attacks and suspicious activities in the pre-execution stage.
Sandbox Analyzer Enhances Targeted Attack Detection
Bitdefender Sandbox Analyzer provides pre-execution detection of advanced attacks by automatically sending files that require further analysis to cloud sandbox and taking remediation action based on the verdict.
Attack Forensics and Visualization
Attack Forensics and Visualization enhances the level of visibility you can have into your organization's threat landscape and reveals the broader context of attacks on endpoints. It lets you zero in on specific threats and perform remediatory action.
Risk Management and Analytics
Risk Management and Analytics continuously scans your endpoints for misconfigurations and application vulnerabilities and makes recommendations for prioritization and remediation, helping control risk and reduce the attack surface.
Ransomware Prevention & Mitigation
Beating ransomware requires understanding the full cyber kill-chain and mapping defenses to each attack stage. Ransomware prevention and mitigation is built into the GravityZone Management Console and consists of automatic, up-to-date tamperproof backup copies of user files, without using shadow copies to blocking and prevention capabilities (Fileless Attack Defense; Network Attack Defense; Advanced Anti-Exploit; Machine Learning Anti-Malware); multiple detection layers (Process inspection, registry monitoring, code inspection, Hyper Detect) and user and system risk mitigation technologies. This way GravityZone covers more ransomware mitigation use cases than competing solutions.
Machine Learning Predicts and Blocks Advanced Attacks
Bitdefender leverages machine learning across its entire portfolio. Scanning engine, HyperDetect, Sandbox Analyzer, Content Control, Global Protective Network are only a few examples of Bitdefender technology that makes use of machine learning.
Endpoint Risk Management and Analytics

View your overall Company Risk Score and see how various misconfigurations and application vulnerabilities contribute to it


Assess prioritized misconfigurations, applications and user-prone vulnerabilities across your organization's endpoint estate.


Get a risk snapshot for servers and end-user devices and review the endpoints and users exposed the most.


Zero in on misconfigurations, vulnerable applications, user behavior risks, individual devices and users and fix misconfigurations or patch vulnerabilities.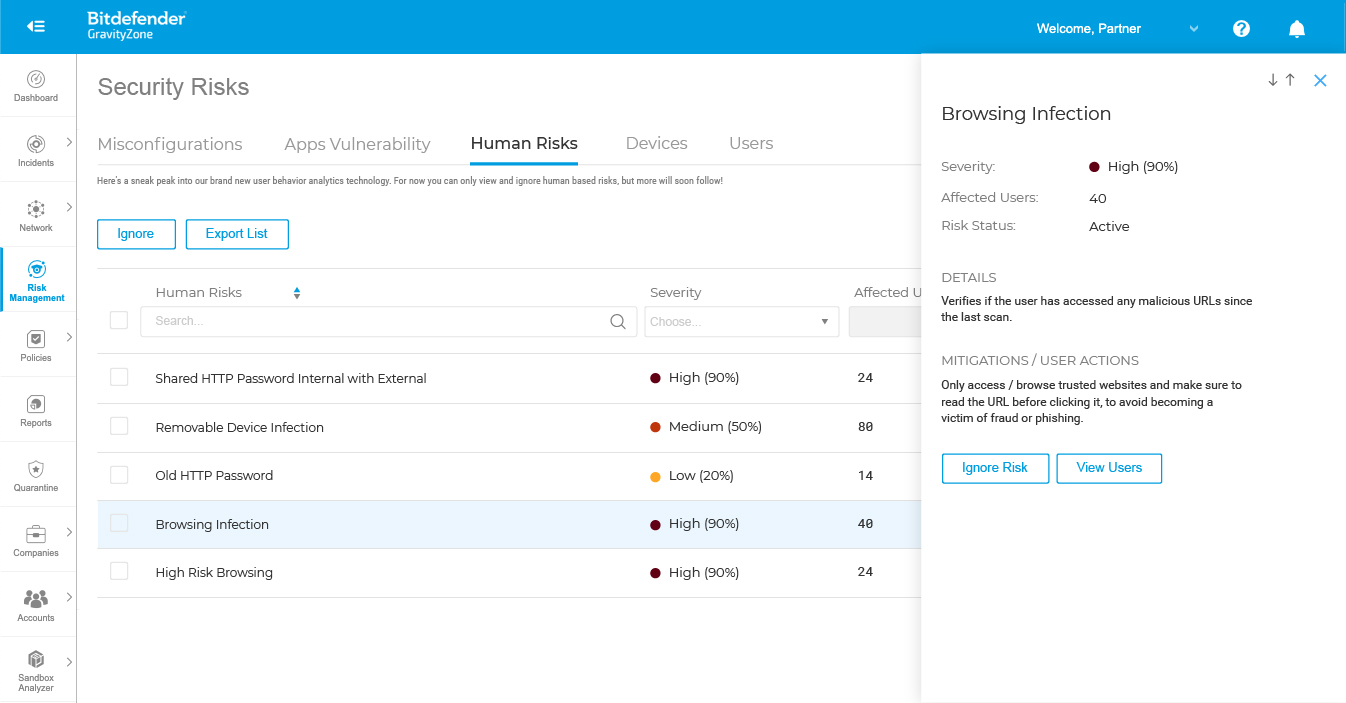 Attack Forensics and Visualization enhances the level of visibility you can have into your organization's threat landscape and reveals the broader context of attacks on endpoints. This GravityZone Business Security Premium​ module includes root-cause analysis, attack kill-chain visualization, and remediatory actions related to threats detected and blocked by GravityZone prevention technologies, e.g., Antimalware (Exploit Defense, PowerShell Defense, HyperDetect, etc.), Sandbox, and Network-Attack Defense.
Kill-chain visualization helps understand how a blocked attack was engineered and lets you zero in on specific attack stages, machines, processes, files, web domains and other elements involved.
In addition to automatic remediation capabilities, you can use Attack Forensics and Visualization to undertake manual action, such as running PowerShell commands on the infected machine remotely, killing a process, quarantining a file, or adding a file to a shared blocklist.
GravityZone Business Security Premium​ Technologies
An integrated endpoint protection, risk management, and attack forensics platform
RISK ANALYTICS AND HARDENING









Automated Sandbox Analysis



ATTACK FORENSICS AND VISUALIZATIONS



REPORTING AND INTEGRATION




Bitdefender GravityZone
A proven leader in endpoint security
"GravityZone provided the highest levels of reliable security without slowing down computers and impacting the users' experience. Operationally, GravityZone also stood out because it provides a central view of our infrastructure and is easy to manage."
– Matt Ulrich, Network Administrator, Speedway Motorsport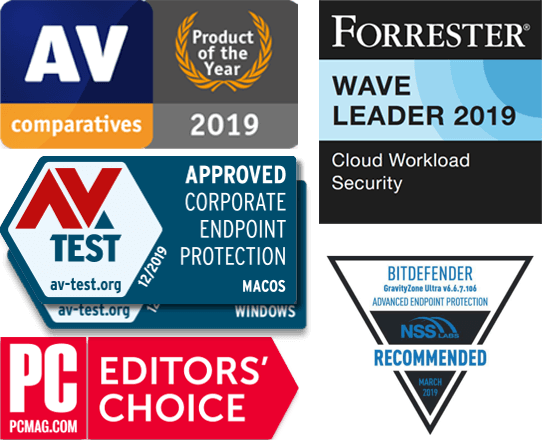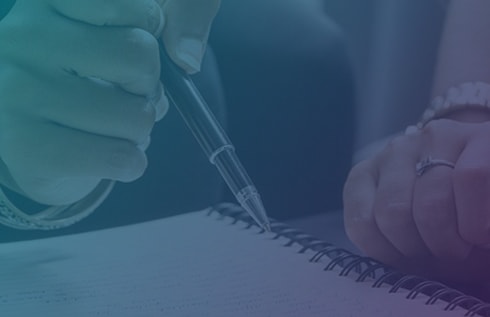 ESG REPORT "THE EMERGING ERA OF CONFIGURATION RISK ANALYSIS"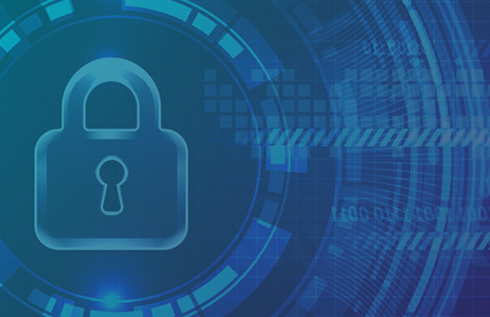 FILELESS ATTACKS SOLUTION BRIEF
Specs & FAQ's
SPECIFICATIONS / SYSTEM REQUIREMENTS
GravityZone Advanced Business Security is available both with a cloud and with an on-premise deployment. It protects workstations, servers, email, and mobile devices (physical or virtual machines). Servers should account for less than 35% of all units.
The number of protected mailboxes can be up to 150% of the number of endpoints included in the license.
SUPPORTED OPERATING SYSTEMS:
Windows Desktop
Windows 10 October 2020 Update (20H2), Windows 10 May 2020 Update (20H1), Windows 10 November 2019 Update (19H2), Windows 10 May 2019 Update (19H1), Windows 10 October 2018 Update (Redstone 5), Windows 10 April 2018 Update (Redstone 4), Windows 10 Fall Creators Update (Redstone 3), Windows 10 Creators Update (Redstone 2), Windows 10 Anniversary Update (Redstone 1), Windows 10 November Update (Threshold 2), Windows 10 (RTM, version 1507), Windows 8.1, Windows 8, Windows 7
macOS
macOS Big Sur (11.x), macOS Catalina (10.15), macOS Mojave (10.14), macOS High Sierra (10.13), macOS Sierra (10.12)
Windows Tablet and Embedded
Windows 10 IoT Enterprise, Windows Embedded 8.1 Industry, Windows Embedded 8 Standard, Windows Embedded Standard 7, Windows Embedded Compact 7, Windows Embedded POSReady 7, Windows Embedded Enterprise 7
Windows Server
Windows Server 2019 Core, Windows Server 2019, Windows Server 2016, Windows Server 2016 Core, Windows Server 2012 R2, Windows Server 2012, Windows Small Business Server (SBS) 2011, Windows Server 2008 R2
Linux
Ubuntu 14.04 LTS or higher, Red Hat Enterprise Linux / CentOS 6.0 or higher, SUSE Linux Enterprise Server 11 SP4 or higher, OpenSUSE Leap 42.x, Fedora 25 or higher, Debian 8.0 or higher, Oracle Linux 6.3 or higher, Amazon Linux AMI 2016.09 or higher
CONTROL CENTER MINIMUM HARDWARE REQUIREMENTS
T CPU: 4 vCPU with 2 GHz each
Minimum RAM memory: 6 GB recommended
40 GB of free hard-disk space
Internet access for updates and communication with remote and mobile endpoints.
ENDPOINT HARDWARE REQUIREMENTS
Minimum : 2.4 GHz single-core CPU
Recommended: 1.86 GHz or faster Intel Xeon multi-core CPU
Memory:
Minimum free RAM: 512 MB
Recommended free RAM: 1 GB
HDD space: 1.5 GB of free hard-disk space
GRAVITYZONE CONTROL CENTER (ON-PREMISE CONSOLE)
GravityZone Control Center is delivered as a virtual appliance and is available in the following formats:
OVA (compatible with VMware vSphere, View)
XVA (compatible with Citrix XenServer, XenDesktop, VDI-in-a-Box)
VHD (compatible with Microsoft Hyper-V)
Support for other formats and virtualization platforms may be provided on request.
Take GravityZone Business Security Premium​ for a ride to experience the unrivaled security efficacy and management simplicity first-hand